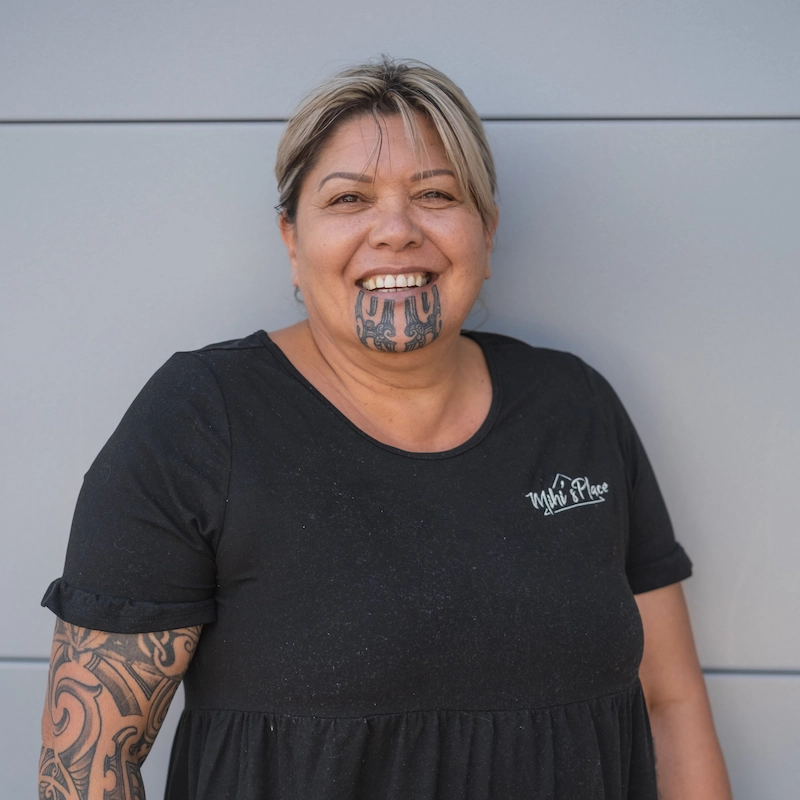 Mihi's Place won several business awards, recognising and rewarding outstanding performance and achievements in both Māori and non-Māori; achieving these shows that business women are changing lives for their whanau, not just themselves. Mihi's Place won the Aotea Regional award for 2019, also was announced the winner of the international Travel & Hospitality award for Excellence in treatments of the year for NZ Taranaki 2020 and 2022 won the International Travel & Hospitality award for Best Day spa of the year award.
Mihi's Place has taken many years to develop, in fact, all my life. Like most people, I started not knowing what I wanted to do for the rest of my life; I had worked in many different areas. It wasn't until I returned home to Taranaki, New Zealand, that I figured out what I needed to do, I was a young mum, and I knew I had to make some positive changes for myself and my children. I returned to education, eventually gaining several qualifications and becoming the first Māori woman and the second woman in New Zealand to receive a degree in therapeutic modalities via cross credits. I joined kapahaka learning waiata, te reo and tikanga . During that time, I learnt about myself, who I was as a Māori woman, and what it meant to be a Māori woman as I was raised in a very different world to the one I was currently experiencing. I came home to heal, grow and take control of my destiny.
During my first hīkoi for kapahaka on a bus heading to Tūrangawaewae Marae, Ngāruawāhia, Waikato, New Zealand. That changed the direction in which my life was heading. During this time, some of our Kaumātua and Kuia that had come with us from all over Taranaki, our old people, saw something in me that I didn't know existed. They knew it would have a significant impact and change not only my life but the lives of so many.
As we returned home to Taranaki, I was told rather than asked to come and look at something, tell us what you think, give it a go, and who knows, you might just like it. I didn't know what that was until I arrived at my Marae on my mum's side, Toroanui Parihaka Pa. I went into the Kote Mahi Ku Are; beside the bay window was a massage table draped with blankets and a pillow, and I saw my mum. She was covered, her eyes closed, and she was receiving healing. It was so beautiful to watch as her skin colour changed, and she looked so relaxed, healthy and totally at peace within herself.
That was the moment that changed my life forever and the start of my journey in the realm of Māori healing. That was the day my destiny found me. I knew I wanted to learn this amazing art that links us through whakapapa, so I was taken under their wings and shown the act of Traditional Māori Healing Haumiri, Mirimiri, Romiromi, Honohono, Whitiwhiti Korero, Rongoā Rākau, Mahi Wairua, Karakia and so, so much more.
Over time I was sent off to learn from others outside of the Taranaki Region. I learnt the different Tikanga, learning so much and filling up my kete of knowledge.
When I look back, I am a very lucky and honoured person as I learnt the old way not in a classroom, not with textbooks, but I learnt on the Marae, in the bush, in people's homes, up the river, in the middle of nowhere. I did and have studied Rongoā. And have many tohu to the different forms of healing. But the old ways will always be my first choice.
So I must thank and acknowledge all those who helped nurture me on my journey within this beautiful kaupapa handed down to me. This art includes an integrated system linked through whakapapa, which contains all of the vital elements Wairua – Spiritual, Mana – Power, Mauri – Life Force, Tapu – Sacred, Noa – Without restraints and Aroha – Love and links you to your higher self and tūpuna.
My journey has taken me to many places, but for now, I would like to welcome you to Mihi's Place, a Traditional Māori and Contemporary healing clinic offering a range of treatments that will cater to your needs.
With all the running around and hecticness of everyday life, we all need an opportunity to slow down and rejuvenate. Here at Mihi's Place, the focus is on providing treatments that deliver noticeable results. I have some fantastic, highly qualified professional therapists who will help when needed and are passionate about my unique approach to therapy and customer experiences. So trust me, your soul will thank you for it.
All products are all 100% all-natural handcrafted products made right here at Mihi's Place, all ingredients sourced locally when possible.
Mihi's Place offers three individual weekend workshops:
· Haumiri/Romiromi
· Honohono
· Rongoā Rākau
Giving the participants hands-on experience and, on completion of each area, a Certificate in Rongoā Māori Appreciation. Prices vary for each of the workshops.
Please look at the shop as there is a range of 100% all-natural handcrafted Rongoā Rākau and contemporary products that you can purchase, either as a gift or for yourself, remedies for all ailments, for all skin types and all ages.
I hope to see you soon.
Kia tau te rangimarie ki runga i a koutou
Naaku Noa
Mihi